Why our clients Vouch For us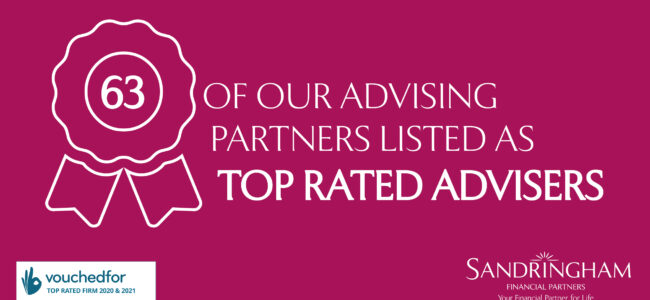 Several weeks ago, we revealed that Sandringham Financial Partners had been listed as a Top Rated Firm by specialist review site VouchedFor. It has been so rewarding to know that we have been providing the support our clients have most needed during a very difficult year.
As the largest firm to be awarded this accolade for the second year in a row, it set us thinking about exactly what it is about our firm's culture and way of working that so appeals to our clients and Advising Partners.
A passion for technology
Firstly, we believe in a modern and innovative approach to advice, using technology to ensure our clients receive the best standards of care and service.
At Sandringham, our main aim is to use technology to streamline our processes, enabling our Advising Partners to spend less time weighed down by administration and more time doing what matters: advising their clients. We call it 'Sandringham Time'. By supporting our Advising Partners with the very best systems and resources, we in turn ensure that our clients are given the time they deserve, exemplary service and outstanding advice.
This approach to advice really came into its own in 2021. While other firms found themselves hampered by existing processes that did not lend themselves well to the new virtual age, we were quickly in a position to support our clients. Our state-of-the-art Wealth Platform already allowed clients to access their investments, products and other assets online, 24/7, and we quickly transitioned to offering appointments to clients via the communication channel that best suited them. In recent reviews, we've noticed a large variety of different communication channels mentioned, from phone calls and SMS to Zoom and messaging apps!
Time to choose
Our Advising Partners are also passionate about ensuring our clients are given the time they need to truly understand the advice and recommendations they are being given, and this is a commonly cited attribute in our VouchedFor reviews. Our Advising Partners listen carefully to their clients' requirements, take the time to explain difficult financial concepts and ensure they are given all the time they need to make a decision they are happy with.
One of our reviews sums this up perfectly:
"These are such uncertain times and it was so refreshing for someone to give advice that genuinely felt was the best for us. We are still considering our options and felt no pressure at all to rush into any decisions. Thank you for your time, your advice and your understanding."
What client reviews mean to us
Commenting on the 2021 results, Sandringham CEO Tim Sargisson said: "VouchedFor is a tangible way for client-centric firms like ours to demonstrate how we continue to protect and enhance the lives of our clients. It is at the heart of everything we do."
It is true that the statistics speak for themselves. Of the 1,389 reviews left for our firm in 2020, 1,176 for five-star, 200 were four-star and just 13 were rated three-star or lower. And not only does this provide both new and existing clients with the reassurance that we truly have their best interests at heart, but it also gives our Advising Partners the motivation they need to continue providing outstanding advice to clients' day in, day out.
If you would like to know more about Sandringham and how our advisers can deliver you the best client outcomes, please get in touch with our team.