Sandringham advisers top the charts for the third year running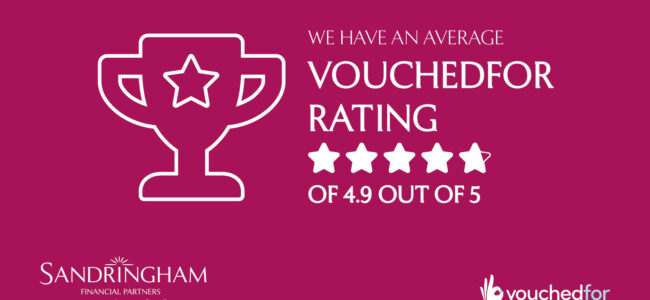 As published in the Top Rated Financial Adviser Guide in The Times newspaper, we are delighted to announce that, for the third consecutive year, Sandringham has been awarded the prestigious Top Rated Large Firm Award by specialist review site, VouchedFor.
VouchedFor is the UK's leading ratings service for financial advisers. To be listed as Top Rated in the VouchedFor rankings, firms must demonstrate that they are transparent and open to scrutiny by asking their clients to leave honest reviews.
Check out our great VouchedFor figures!
During 2021, 99% of Sandringham's VouchedFor reviews were either five or four-star, resulting in an average rating of 4.9 out of five. What's more, 58 Sandringham Advising Partners from across the country were listed as Top-Rated Advisers in this year's awards.
Some glowing reviews of our advisers
Lauren Codd, Financial Adviser, Sandringham Financial Partners – "Professional, punctual, offers well thought out advice and always responds to questions and enquiries quickly. I would have no hesitation in recommending her to others, she is a great advert for your organisation."
Steve Green, Financial Adviser, Steven Green Financial Planning – "I can't praise Steve enough. He is very generous with his time. Nothing is any bother to him. He has given us very sound financial advice which has been so helpful. Definitely would recommend."
Steve Sasimowicz, Financial Adviser, Sandringham Financial Partners – "Steven was fantastic, he listened to my future needs & offered sound advice. He sorted my pension with ease. It can be a stressful process, but Steven is a pleasure to work with and he understands his clients' life goals financially."
Angela Farrell, Financial Adviser, Sandringham Financial Partners – "Looking back to our original objectives, Angela has helped us achieve every one and continues to provide ongoing advice and support beyond the initial scope"
Market-leading client service
We credit our VouchedFor success to our commitment to state-of-the-art technology and our modern, innovative advice process. This includes Precision, our market-leading client service experience, which means the entire service can be delivered digitally, ensuring that Sandringham advisers have continued to deliver a professional service and communicate effectively with clients throughout the pandemic and lockdowns.
Sandringham CEO Tim Sargisson commented: "Everybody in Sandringham is exceptionally proud of this achievement. Providing the recognition from our clients that we remain true to our Core Values and Core Focus. To support, guide and enable our advisers to protect and enhance the lives of our clients while delivering commercial success through the achievement of positive customer outcomes.
There are no shortcuts to success. However, hard work and ensuring it's always 'client first' is critical.
To achieve this for the third year running demonstrates excellent consistency and quality of service."
How we can help
Helping you achieve your goals is what drives Sandringham advisers. When you're planning for life's important milestones, it's important to use an adviser that you can trust and rely on. So, if you would like help devising an individual plan for your financial future then do get in touch with our team, we're here to help.