Sandringham advisers continue to top the charts in 2021 financial advice guide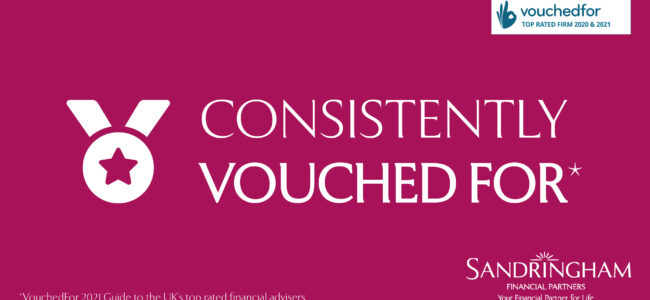 We are delighted to announce that for the second year running Sandringham has been awarded the prestigious Top Rated Large Firm Award by specialist review site, VouchedFor. The VouchedFor award is based on 'an exemplary commitment to transparency and consistent delivery of excellent client outcomes.'
It is even more rewarding to receive such an accolade during these difficult times, and to know that we have been able to make a real difference to our clients by maintaining high levels of customer service and engagement, even throughout lockdown. The achievement of this award reinforces our ongoing focus on our core value to protect and enhance the lives of our clients.
Our VouchedFor figures look great!
To be listed as Top Rated in the VouchedFor rankings, firms must demonstrate their strong commitment to transparency, demonstrating that they are open to scrutiny by asking their clients to leave honest reviews.
We are proud to have received over 3,700 reviews over the last two years and to have received an average rating of 4.9 out of five. What's more, in addition to Sandringham qualifying as a Top Rated Firm, 63 Sandringham Partners are listed as Top Rated Advisers.
Helping clients with important decisions
Helping clients achieve their goals is what drives our Sandringham Advising Partners. We are dedicated to helping our clients grow and secure their hard-earned money, so they can enjoy those important and precious times in the future.